Jack Bauer has saved my life
This is not a whiney post. You know why? Because I've spent about 48 hours straight with my true love
Jack Bauer
and now I feel so much better. Because if I'm whining nonstop about my life.. well than Jack might as well just pack it in because he has to fight crooked politicians, nuclear bombs, the world's stupidest daughter, double agents, spies, and at least 10 gunfights per day. That's just not a life worth living unless you're Jack Bauer, who always remains unscathed.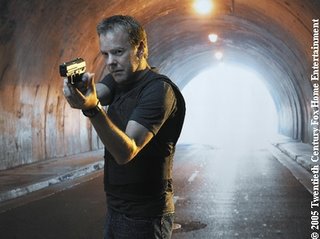 A couple of weeks ago a friend told me that she had just purchased Seasons 1-4 of 24. Which makes it 96, actually. Anyhow, as a fan of 24 on tv, I was psyched to borrow the disks. What I hadn't realized until I started watching them is that how you can get so hooked on the cliffhangers when you know that you've got the next one following with a flick of the remote, that you just can't stop watching. Plus, without the disgusting commercials, this show kicks serious ass. We've rewatched Seasons 1 and 2 already, and plan to finish 3 in a day or so. Twice I've stayed up until it's light out before going to be because I just HAD to see the next episode.
Other shows are much better on DVD than on TV, especially Lost, but nothing really compares to watching 24 on DVD because of the heart stopping action and the continual need to guess who the bad guy is going to be. Good guys turn bad, bad guys sometimes turn good (George Mason comes to mind) and Kim remains a moron. How Jack ever got a daughter this moronic is beyond me. Elisha Cuthburt isn't the best actress either, but this girl gets into the stupidest situations and she never seems to learn from her mistakes. Her mother wasn't the swiftest dog on the track, but she wasn't a complete moron either. More of just a whiny, too trusting, doofus. I can't stand Kim.
Anyhooooo, I'm feeling much better and it's all due to Jack Bauer, super CTU agent and a way hot gunslinger to boot. He's such a hunka hunka burning lust.
Stumble It!
JBlog Me
Tweet